Wednesday, July 23, 2014
Never go backward. Attempt, and do it with all your might. Determination is power.
~ Charles Simmons ~
The following video is about a program (in France) to stop wasting produce. I LOVE it and hope that US food stores will follow suit!
youtu.be/p2nSECWq_PE
The Color Vibe is a 5K Run / Walk.

It will be in Savannah in October and I AM going to walk!!!

I KNOW that I can do it!

I WANT to do it!

I WILL do it!
www.thecolorvibe.com/savannah.php
Check their website --
www.thecolorvibe.com
-- and see if there is one near you!
I am hoping to get some pool time tonight. I swam for 90 minutes last night. It really relaxes me and I sleep so well afterwards.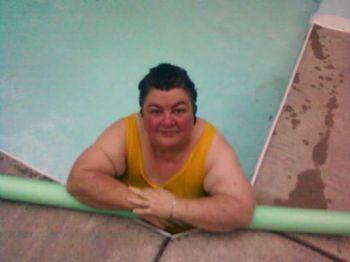 I can honestly FEEL myself toning up. My size 3X pants are so loose they are falling off.

That's a lovely feeling. I'll be buying new pants soon... maybe... a size 1X this time?

In the meantime, I'm using my barbells for strengthening / toning my arms.

Progress is slow, but I persist!

Chasing *ONE*derland is quite the adventure. I can see it getting ever closer. Sometimes, it's faster and farther ahead, but it never goes out of my sight.
I'm making up ground... and it is not so elusive as it was a few months ago.